Tofu and vegetable kebabs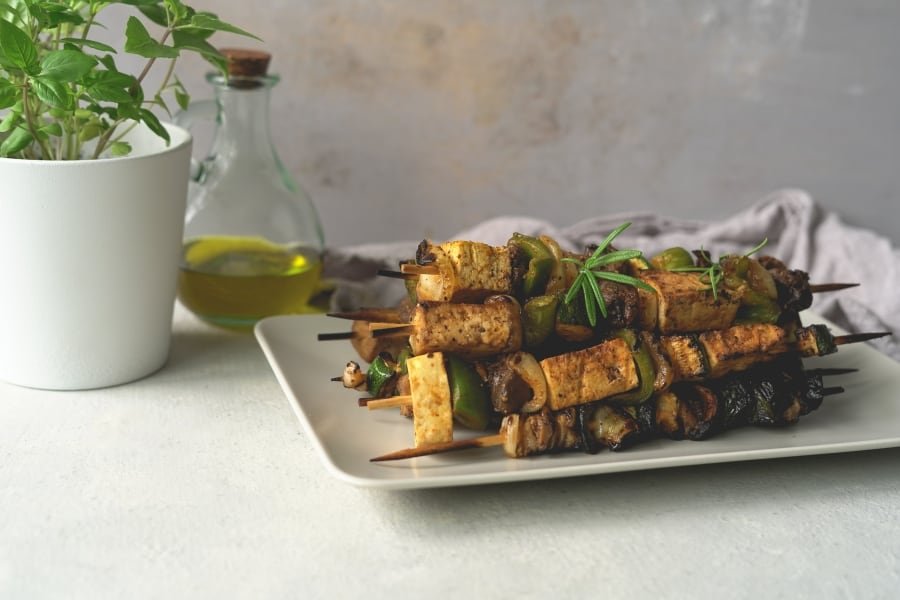 This week we bring you a perfect main dish suggestion for summer barbecues. It is again a recipe from Oksana from the blog Dicas da Oksi. These tofu & vegetable kebabs are extremely easy to prepare and taste wonderful! For tofu kebabs to work best, it is important that very firm tofu is used. Choose a natural tofu, but if you happen to have smoked or seaweed tofu to hand, you can also use these varieties. The best way to cook these tofu & vegetable kebabs is on the BBQ. If that is not possible, you can grill on a stove grill and, ultimately, on a normal frying pan. You can also prepare them in the oven, but only if it has grill mode (otherwise it will dry out a lot).
Ingredients
Servings: 3-4 servings
250 gr of firm tofu
½ green pepper
½ large onion (or 1 small)
½ large courgette
300 gr of Paris mushrooms
Marinade:
2 tablespoons of olive oil
2 tablespoons of soy sauce
½ lemon juice
½ tablespoon of smoked pepper
1 teaspoon of coarse salt
Black pepper to taste
Instructions
1. Place all the marinade ingredients in a large container (olive oil, sauce and soy, lemon juice, smoked pepper, coarse salt and black pepper. Mix well.
2. Add tofu, onion, mushrooms and courgette. Mix well and marinate in the refrigerator for at least 30 min (can be left up to 12h).
3. Once the vegetables are marinated, assemble the kebabs.
4. Grill the kebabs on a charcoal or stove grill for about 7 minutes on each side. Brush over and over with the remaining marinade.
Recipe and images from the blog Dicas da Oksi https://dicasdaoksi.pt/espetadas-de-tofu-legumes/