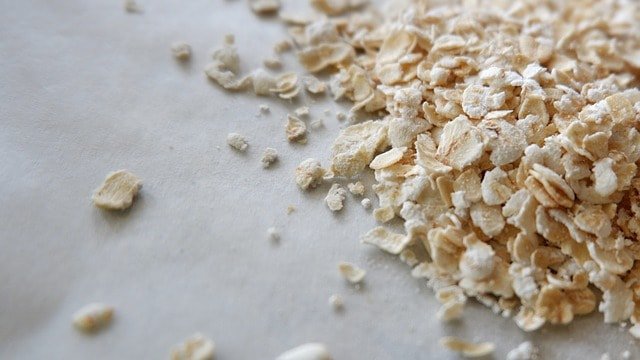 Health Benefits + Unique and Easy Ways to Cook With Oats
When most people think of amazing oats, they probably picture granola bars, bowls of oatmeal and childhood memories of soaking in an oatmeal bath after playing outside to help sooth itchy skin. While oats have always been a food and wellness staple that we have certainly appreciated, they haven't exactly been an exciting topic to talk about…until now.
Oats are the hot new ingredient on the modern foodie scene. Today, the humble oat has been transformed from a boring breakfast staple into a popular superfood that can be enjoyed many ways, at every meal and any time of day.
Sure, oatmeal and granola bars are still tasty, but have you tried oat milk? Your local coffee shop might be offering an oat milk latte. Smoothie franchises are offering oat milk in their drinks in place of cow's milk. Stop by a major grocery store or retailer like Target and find a plethora of packaged food products made with oats like oat milk, chocolate oat milk, oat milk yogurt, oat milk ice cream, oat milk coffee creamer and more.
Oats are even invading restaurants and grocery store products. Right now, Smoothie King locations across the US are offering a Vegan Mixed Berry smoothie made with Califia Farms Oat Milk. Kroger locations in the US have been offering many different brands of oat milk on sale. We know more brands will be debuting oat milk products this year, too, both in the US and the UK. Now is the time for oats to shine!
Another company that has been quietly making oat milk was founded back in the 1990s and was based on Swedish research from Lund University. Oatly "burst" onto the scene in 2018 when a Barista version of their oat milk was running in short supply. The company's patented enzyme technology copies nature's own process and turns fiber rich oats into nutritional liquid food that is perfectly designed for humans.
Today, the Swedish company remains independent and dedicated to upgrading the lives of individuals and the general well being of the planet through a lineup of original oat drinks.
The company operates out of the southern region of Sweden with Headquarters in Malmö and our Production & Development Center situated in Landskrona. The Oatly brand is available in more than 20 countries throughout Europe and Asia.
Oats are cheap so they're excellent to buy in bulk and use for many recipes. They're also a very healthy food to add to your diet. Although they don't always get the attention they deserve, oats are indeed one of the most nutritious grains out there. They're considered a healthy whole grain. Oats are packed with several vitamins, minerals and plant parts such as manganese, phosphorus, magnesium, iron, copper, zinc, folate, Vitamin B1 (thiamin) and Vitamin B5 (pantothenic acid). They also contain trace amounts of calcium, potassium, vitamin B6 (pyridoxine) and vitamin B3 (niacin).
Usually oats are gluten-free, so those with gluten intolerance can often find food like pancakes, cookies, crumbles, crisps, breads and more that are made with oats instead of gluten-containing ingredients like wheat flour. Some of these oat foods like cookies and muffins are even better than the gluten-containing counterparts.
Perhaps now you're convinced that oats are healthy and good for us to eat, but what if you just don't like instant oatmeal? Or maybe you only think about oats as a skincare ingredient for bug bites and therefore dismiss the boring grain as a non-food item. Well, once you get past thinking about oats just for bowls, bars and baths, you'll see the possibilities for the mighty oat are pretty endless. Here are some quick and delicious recipes using oats that we encourage you to try at home. All of these recipes are vegetarian, dairy-free, egg-free and vegan. Many of them are gluten-free, as well.
1 Vegan Snickers Bar Overnight Oats
Who says you can't have dessert for breakfast? Say goodbye to boring cinnamon or maple oatmeal and treat yourself to a candy bar-like breakfast bowl instead. Try this Vegan Snickers Bar Overnight Oats recipe from The Whole Food Plant Based Cooking Show. Since Snickers bars were one of the host's favorite treats before they went plant based, they decided to create a healthy alternative to the beloved candy. The result is a rich bowl of overnight oats packed with good-for-you ingredients like peanuts, unsweetened almond milk and dates. Add or subtract the amount of dates to adjust the sweetness to match your taste. https://www.youtube.com/watch?app=desktop&v=ZkBGywg-0qk&feature=emb_title
2 Easy Baked Apples With Oatmeal Filling
If the apples that have been sitting in your fruit bowl for a couple weeks now are starting to look wrinkly and soft, don't throw them away! If they don't have mold, but rather are just not the best for eating raw, toss them in the oven, not the trash. Wilted raw apples make for a delicious baked treat and they will make your house smell absolutely amazing. This recipe from Fit as a Mama Bear is full of cinnamon and maple flavor. https://fitasamamabear.com/cinnamon-oatmeal-baked-apples/
3 Vegan Banana Oat Flour Pancakes
These Vegan Banana Oat Flour Pancakes from ElaVegan are not only dairy-free and egg-free, but they are gluten-free, as well. They call for only three ingredients: oat flour, plant-based milk and banana. Jazz them up with some maple syrup or perhaps some chopped pecans for added flavor. The author says, "Some people might fear that pancakes contain too much fat, sodium and calories. But don't be afraid because these banana oatmeal pancakes are pretty healthy!'
4 Oat Tortillas and DIY Oat Flour
Did you know that you can make oats into a flour that can be used to create tortillas? The technique is pretty cool and not too difficult if you have a food processor. This Oat Tortillas recipe from Oats Everyday proves that oats are not only for breakfast and sweet treats. You can use them to create a savory tortilla that provides an excellent foundation for your next Taco Tuesday. https://oatseveryday.com/blog/oat-tortillas/
5 Healthy Oat Balls Soup
You can even put oats into savory soups. The oat balls in this recipe from Wellness Dove are seasoned with eastern spices like cumin, paprika and turmeric to mimic on the savory taste and hearty texture of typical meatballs. You will be surprised by just how "meaty" the little oats can be! This hot, comforting and nutritious soup is perfect for packing in some real plant power on a dreary winter day. https://wellnessdove.com/healthy-oat-balls-soup-vegan/?epik=dj0yJnU9NVdVYk5IaGNiZWdVTUgybUpfUnZXRkdaQWpSai10dDEmcD0wJm49Sk1rSjVKYkxrVzUzTE9Lc2djRS1vUSZ0PUFBQUFBR0FhRTRN
6 Vegan Cherry Peach Crumble Bars
This vegan cherry peach crumble bars recipe from Fit Mitten Kitchen is vegan and gluten-free. It's made with peach reserves, cherry preserves and coconut oil. You can easily mix all of the ingredients together and one bowl, simply press the mixture into a baking pan, top with fruit preserves and bake until golden brown. You can make this for a breakfast or brunch treat, or it is even sweet enough to have for an after dinner dessert. https://www.fitmittenkitchen.com/vegan-cherry-peach-crumble-bars-gluten-free/
7 Oat Flour Chocolate Chip Cookies
If you want to feel good about eating cookies, just try a recipe like this one with oats. They don't look like crumbly, boring oat bars at all. A blogger who is also a registered dietitian created this recipe to taste like a chewy, buttery real cookie but made with healthier ingredients. The author says these cookies are light and chewy and that if you have extras, you can freeze them for up to three months in a freezer bag or freezer safe container. https://hungryhobby.net/oat-flour-chocolate-chip-cookies/?utm_source=pinterest&utm_medium=social&utm_campaign=social-pug&utm_content=tribes&utm_term=1119553502_54332838_110905
We hope you will use these recipes to discover a love for cooking with oats again. Even oatmeal can be made into a jazzed-up dish like chocolate banana overnight oats. What is your favorite way to cook with oats? Let us know in the comments below!