Animal Caregiver Grass Valley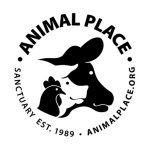 Organization Description: Animal Place is an animal rights organization promoting the complete protection of farmed animals and a vegan lifestyle. We operate a 600-acre sanctuary in Grass Valley, CA that serves as a permanent safe haven for farmed animals and an education center. Adjacent to the Grass Valley Sanctuary is our Guest House, which houses visitors and volunteers. We also have a 12-acre rescue and adoption facility in Petaluma, CA, which provides temporary home for adoptable farmed animals, with a special emphasis on chickens from the egg industry. We operate an all-vegan store in Berkeley, CA, and facilitate multiple educational campaigns throughout the United States.
Job Title: Animal Caregiver
Job Status: Full-Time, Grass Valley
Immediate Supervisor: Animal Care Director
Job Description: The full-time Animal Caregiver assists in the care of 350+ animals (pigs, chickens, cows, turkeys, sheep, goats, rabbits, donkeys) at the sanctuary under supervision of the Animal Care Director. Animal Caregivers are responsible for the cleaning, feeding, and medical care of the animals. See below for specific responsibilities and duties.
Qualifications
Passionate about working for and with farmed animals
Keen interest in the animal welfare/rights movement is encouraged
Good animal behavior and observation skills
Strong communication and listening skills
Able to follow detailed instructions and meet time sensitive demands
Able to learn and process new information quickly
Team player and self motivator
Follows directions
Reliable and dependable
Able to work outdoors in all weather conditions, including cold/wet weather (average low is 35F) and hot summers (average high is 95-100F)
Able to lift 40-50 pounds and perform strenuous/manual labor
Work well with a variety of people
Committed to Animal Place's mission and a desire to be a part of the Animal Place family
Willing to work on weekend/holidays/varying shift times
Valid driver's license and good driving record (subject to verification)
Vegan diet preferred
Job Duties
Animal feeding/watering and maintaining animal feed schedules
Daily animal health care and maintaining treatment records
Daily cleaning duties and maintaining the shelter areas
Aiding with weekly health checks
Assisting with veterinary visits and setting up treatment protocols
Completing shelter projects as assigned
Hours/Days: 40 hours/week, days vary; schedule subject to change at any time, required to work most holidays.
Salary: $15/hour
Benefits: Health care coverage after 3-month probation period
Start Date: Immediate
How to Apply: Submit a cover letter and resume to humanresources@animalplace.org
Please send both in the body of email and do not send attachments. In subject line, write Full-Time Animal Caregiver.