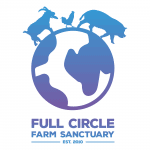 Job Title: Animal Caregiver
Job Status: Full Time
Immediate Supervisor: Animal Care Manager
Hours/Days:  Days of the week may vary; subject to change anytime, required to work some holidays
Benefits:  90% Insurance Coverage (Medical, Vision, Dental);  Vacation
Job Description: The Animal Caregiver assists in the care of the 150+ animals (pigs, chickens, cows, turkeys, sheep, goats, horses, donkeys, llamas, alpacas, emus, geese, ducks, guinea fowl and others) living at the sanctuary, under the supervision of the Animal Care Manager. Animal Caregivers are responsible for the cleaning, feeding, and medication of the animals.  See below for specific responsibilities and duties.
Job Duties
●      Daily cleaning of barns and enclosures, and pastures when needed
●      Animal feeding/watering and maintaining animal feed schedules
●      Daily animal health care and maintaining treatment plans
●      Aiding with health checks
●      Assisting on rescues, as needed
●      Assisting with veterinary visits and transports
●      Maintaining neat and organized work and storage spaces
●      Ensuring tools and other items are put away at the end of the day
●      Completing sanctuary projects as assigned by Animal Care Manager
Qualifications
●      Passionate about working for and with farmed animals
●      Keen interest in the animal welfare/rights movement is encouraged
●      Reliable and dependable
●      Previous experience working with farm animals
●      Good animal behavior and observation skills
●      Able to work outdoors in all weather conditions, including cold/wet weather and hot summers
●      Able to lift 40 – 50 pounds and perform strenuous/manual labor
●      Work well with a variety of people
●      Strong communication and listening skills
●      Able to follow detailed instructions and meet time-sensitive demands
●      Able to learn and process new information quickly
●      Team player and self-motivator
●      Committed to Full Circle Farm Sanctuary's mission and desire to be a part of the FCFS family
●      Willing to work on weekend/holidays/varying shift times
●      Valid driver's license and good driving record (subject to verification)
●      Comfortable dealing politely with the general public
●      Vegan lifestyle