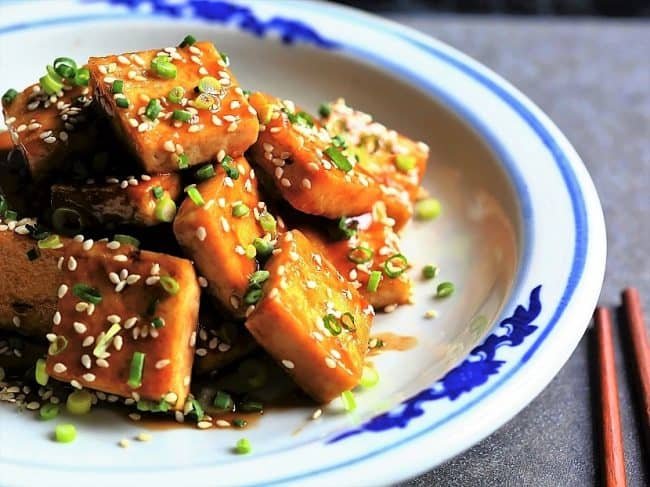 An easy, healthier and vegan version of the traditional Chinese dish made with crispy tofu to be served on a bed of rice. This tofu based dish is crispy, full of flavour and spices. The sweet base of orange juice and chilli sauce gives it a very Asian inspired flavour. It is perfect served with rice and topped with spring onions and sesame seeds.
Ingredients
Serves 2 people
For the orange sauce:

1 cup of orange juice
1/4 cup lime juice or lemon juice
1/3 cup sweet chili sauce
Sriracha to taste (optional)
4 tbsp tamari or soy sauce
half a red chili, diced
Remaining ingredients:

1 block firm tofu, pressed and cut into "fajita" stripes
¼ cup tapioca or cornflour for coating the tofu
3 tbsp of olive oil
Some spring onions, sliced
Sesame seeds, to taste
Instructions
Prepare the tofu: press to remove all the water and then cut the tofu into "fajita" type stripes. Reserve.
Heat the orange juice in a pan. Add the lime or lemon juice, sweet chili sauce, diced chilies and Sriracha sauce (if using). Lastly add in the soy or tamari sauce. Mix the ingredients together with a wooden spoon & let the mixture reduce & thicken.
In the meantime, return to the tofu: place the tofu slices on a plate and add the tapioca or cornflour and cover the tofu in all sides.
To medium hot heat pan, add olive oil and once hot, gently fry the tofu slices until they're golden and crispy on all four sides.
Move the tofu slices to the orange chili sauce, mix them all around so they're well covered.
And serve on fluffy white or cauliflower rice garnished with spring onions and sesame seeds.
Recipe inspired by BOSH