How To Make Tofu That Doesn't Taste Like Air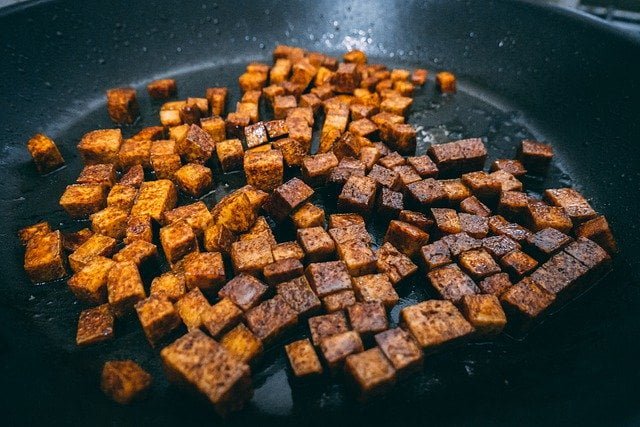 "You're vegan? So, you eat TOFU? I tried it once and it didn't taste like anything and the texture was just so gross."
I'm sure you've been told something similar to this when you revealed the fact that you were vegan to a friend, family member, or even a stranger. People feel the extreme need to share with vegans how tasteless and disgusting they find tofu even more than any other food vegans eat.
The truth of the matter is, if you don't season it, tofu DOES taste like nothing, but so does chicken and nobody's downing chicken! I like to use that line of thinking to make my point with non-vegans and tofu hating vegans and vegetarians. Just like meat, tofu needs to be seasoned or marinated and cooked properly, otherwise it just won't taste good. In order to make tofu that doesn't taste like air, you have to actually DO something to your tofu.
Tofu instructions
If you are looking for a meaty or firm texture and as much flavor as possible, there are five steps to cooking tofu to achieve that goal.
FREEZE a block of extra firm tofu.
THAW tofu.
PRESS as much liquid out as possible. You can use a tofu press, or simply place your tofu between paper towels or a clean, fuzz free kitchen towel and on top of the tofu, weight a frying pan down with a few cans.
MARINATE tofu in a liquid marinade. Once tofu is frozen and thawed, it sucks marinade up like a sponge.
COOK tofu however you choose. Tofu with this texture holds up great on the grill, but can also be fried, sauteed, or even baked. It's easy to batter or bread tofu this firm as well. Tofu can even be brushed with extra marinade or sauces before grilling or baking.
Tofu can also be used without the freeze and thaw method. It can be breaded, battered, baked, fried, or sauteed and though the texture will be less "meaty" or spongey, it will still take in seasoning or marinade.
Although tofu gets a bad rep, it's actually quite versatile. Tofu can also be pureed to make sauces and puddings, added to baked goods to replace egg, or broken up and sauteed to make a tofu "egg" scramble. Tofu may, in fact, taste like air and feel floppy and mushy if you judge it straight out of the package, but there are many ways to cook tofu, so it doesn't taste like air. All it takes is the right preparation and seasoning, spice, or flavoring.