Super Quick Vegan Peanut satay stir-fry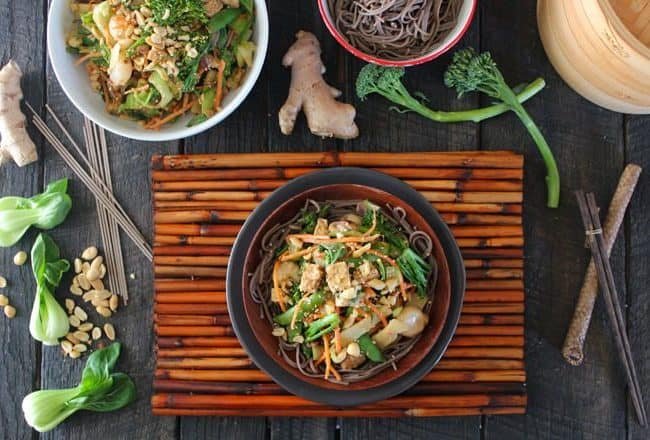 Here is a quick less than 15 minutes recipe for a tasty tempeh satay stir-fry.
Ingredients
Sauce
½ tsp chilli flakes or 1 whole fresh chilli, chopped
2 tbsp sesame oil
3 tbsp tamari or soy sauce
3 tbsp peanut butter
4 tbsp maple syrup or agave
60 ml water
Stir-fry
Tempeh (Marinated in soy for 1 hour) Pieces 200g
Stir-fry veggies
Udon or rice noodles
Handful of peanuts (optional)
Instructions
Combine all the sauce ingredients in a large bowl and set aside.
Heat 1 tbsp oil in a wok or pan, then add the Tiba Tempeh Soy Pieces and the stir-fry veggies. Cook for 2-3 minutes.
Add the sauce to the cooked tempeh and veggies. Cook for another 2 minutes.
Cook the noodles in a separate pan as per pack instructions.
Arrange in a bowl and serve with a sprinkle of toasted crushed peanuts, if using.