Corporate Engagement Manager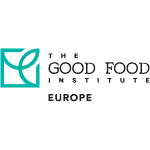 Corporate Engagement Manager
The Good Food Institute Europe
Engage Businesses to Build a Sustainable, Healthy and Just Food System 
Industrial animal agriculture is at the root of many of the most pressing global issues of our time, from climate change and global hunger, to increased disease risk and poor animal welfare.
The Good Food Institute Europe (GFI Europe) is at the forefront of the movement to use food technology to replace the products of industrial animal agriculture with plant-based, fermentation-derived and cultivated meat, eggs, dairy, and seafood. Please check out our U.S. affiliate's website (gfi.org) and read the 2019 Year in Review (gfi.org/2019, in particular pages 10-11 on our Corporate Engagement work), to find out more about who we are and what we do.
We are at an exciting stage in our growth and are looking for a Corporate Engagement Manager to join our team. For more information about this role, please take a look at the job brochure here: shorturl.at/kmsxH.
How You Will Make a Difference
While many excellent alternative protein products and companies already exist, they still comprise a small percentage of the market share of conventional meat, eggs, dairy, and seafood. The Corporate Engagement Manager will drive action to accelerate the growth of the alternative proteins sector in Europe.
You will focus on building relationships with major established companies, influencing them to invest in alternative proteins, stock more alternative protein products, and create new products in this space. As well as engaging with individual decision makers, including senior executives at C-suite level, you will also help to catalyse the sector at the ecosystem level. You could also explore the potential for engaging with entrepreneurs, start-ups and investors, if this proves to be a strategic area for maximum mission-impact.
As the first Corporate Engagement hire in our growing European team, you will help radically transform the food system by:
Setting the strategy for GFI Europe's corporate engagement work, identifying and pursuing the top priorities for impact.
Managing and delivering all aspects of GFI Europe's corporate engagement work, and potentially leading a team of specialists in the future.
Building relationships with established companies (including food manufacturers, co-manufacturers, ingredient companies, and life science companies), influencing them to invest in alternative proteins, produce and stock more and higher-quality alternative protein products, and create new products.
Potentially also building relationships with other stakeholders, as and when this is strategic for mission-impact. These could include priority grocery stores, restaurants, and foodservice establishments, investors and financial institutions, entrepreneurs and start-ups.
Acting as a liaison and 'connector' between European stakeholders, GFI's US-based Corporate Engagement team, other GFI global staff, and our broader network.
Potentially coordinating the creation of resources to help champion the alternative protein sector – for example, databases of investors/companies/ingredients, or 'manuals'/guides for start-ups.
Overseeing the generation of new consumer and market research data by contracting external firms, as needed.
Building communities and coalitions of organisations to champion the alternative protein ecosystem, for example, by bringing together consortia to apply for grant funding..
Preparing and delivering influential presentations to key corporate decision-makers.
Being a thought leader by speaking at conferences, webinars etc.
Performing other duties as required, as a member of our small, growing team.
Who We're Looking For
You must have:
A passion for GFI's philosophy and mission.
Significant relevant experience, for example in business, management consulting, corporate affairs/management/engagement, brand/product marketing, investment, venture capital, start-ups, food industry sales, or other relevant area.
Excellent people-skills: the ability to influence, network, and build alliances.
The ability, confidence and authority to engage with corporate executives, build long-term relationships with them, and to persuade and influence decision-makers.
Strong team spirit and open and collaborative instincts: you will be working closely with colleagues in our US Corporate Engagement team and around the world.
Excellent written and oral communication, public speaking and presentation skills.
Strong strategic ability.
A can-do approach: a self-starter with the drive and initiative to take responsibility for delivering impact.
Comfort working remotely in a rapidly-growing and evolving organisation: the ability to work well independently and under pressure, manage multiple projects simultaneously, and meet deadlines.
Fluent English, both written and spoken (CEFR C2 level). We would also welcome applications from candidates who, in addition, can work in other major European languages.
We want the best people and we don't want biases holding us back. We strongly encourage people of every colour, orientation, age, gender, origin, and ability to apply. Because we value a diverse workplace, we prioritise an inclusive climate absent of discrimination and harassment during the application process and after you join the team.
The Fine Print
Terms of employment: Full-time, permanent
Location: Flexible – we will consider applicants from anywhere in Europe. You will mainly be working remotely: from your home, or wherever you choose. Once the COVID situation has cleared, you and the whole GFI Europe team will get together in-person approximately once every quarter for around 3-4 days at a time, most likely in the London area or Brussels. Subject to COVID, there may also be other frequent work trips within Europe, and occasionally beyond.
Salary: £38,000 – £50,000. This range is based on a UK hire and will be adjusted if hired elsewhere in Europe.
Right to work requirements: We are only able to consider applicants who are eligible to work and travel in the EU or UK.
Application Deadline: 26th October 2020, 11.59pm GMT. We will be assessing candidates on a rolling basis, so please apply now!
Application process: Please complete this short form, upload your CV and cover letter and complete a short task here: https://forms.gle/2rGC8f37sSt2k3Qd9 – thank you. Your cover letter (of 1-2 pages) and CV should set out:

What motivated you to apply for this role.
How you meet each of the requirements for the role as listed in the job description.
Which bit of the job description energises you the most.

The full application process is outlined in the job brochure: shorturl.at/kmsxH. We really look forward to hearing from you!
Any questions? If you have any questions about this role, please do reach out to us at europe@gfi.org. If you've read this far but decided not to apply, please feel free to share this job description with someone else in your network who you think might be a good fit for the role! Thank you.