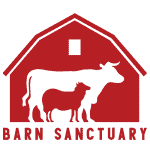 Barn Sanctuary is a 501(c)3 non-profit sanctuary dedicated to rescuing, rehabilitating and caring for  farmed animals that have been abused, abandoned, slated for death or are victims of natural disasters.  We show farmed animals in a new light, highlighting their individuality by sharing their unique stories and  educating the public about the treatment of animals raised for human consumption. We envision a world  in which farmed animals are seen as individuals and treated with empathy and compassion.    Animal Care Interns gain experience working at a non-profit sanctuary with over 100 animal residents  covering 8 different species, learn valuable skills related to animal health and behavior, get the chance to  work with many special needs animals as well as perform other day to day duties.
Interns will report to the Animal Care Director while working closely with the Animal Caregivers and  Shelter Team and may also occasionally coordinate with other departmental staff and volunteers.
Your time interning with the Animal Care Team is valued very much. We could not maintain our high  standards of care without the help of interns and volunteers.
Specifications   
● We can offer flexibility with weekly hours and length of the internship to accommodate  academic/work schedules.
● Full or part time internships are available, minimum of 10 hours per week. Weekly stipend available for full time interns.
● 6 week minimum commitment, up to 12 week commitment available
● Openings are available year-round. An effort is made to accommodate the scheduling  requirements of prospective interns.
● This internship will be performed 100% on site and interns must be able to commute and  provide their own transportation.
● Interns must be prepared to work in all weather conditions and plan to dress appropriately.
● All necessary PPE will be provided.
Duties & Responsibilities 
● Clean and refill all waters daily
● Maintain cleanliness of pig wallows and duck pools
● Stocking hay, straw and wood shavings in the various buildings
● Filling feed bins in all animal areas
● Sweeping the hallways of all the barns and coops
● Assist with mucking barns and coops when needed
● Assist Animal Care staff with preparing food bowls for animals
● Stocking medical supplies in the various buildings
● Apply sunscreen and fly spray to animals that require it
● Cook and distribute eggs to the birds
● Chop, sort and distribute fresh produce to the animals
● Assist with animal restraint for medical procedures
● Shadow Animal Caregivers conducting health checks
General Requirements 
● Interest in animal care, veterinary science, animal behavior, nonprofit sanctuary work
● Commitment to Barn Sanctuary's organization goals and mission
● Ability to lift 30 pounds and do general physical work
● Strong attention to detail
● Ability to work independently and as part of a team
● Strong communication skills
● Flexibility and openness to a multitude of tasks
● Willingness to learn new things