Executive and Programs Assistant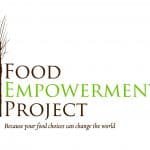 Summary
Food Empowerment Project (F.E.P.) is looking for a full-time Executive & Programs Assistant (EPA) to work closely with F.E.P.'s Executive Director and help with a variety of administrative tasks that align with F.E.P.'s mission and support the organization's goals. The EPA will help organize F.E.P.'s physical and virtual offices; we currently have a team of four full-time and two part-time staff—most of whom are remote. The EPA is an essential member of the team and will support the team to help advance F.E.P.'s core programmatic and fundraising work. The ideal candidate will be extremely organized, efficient, self-motivated, detail-oriented, and able to juggle multiple tasks at once. The position requires an individual who is able to maintain strict confidentiality and discretion when handling F.E.P. information. There is tremendous room for growth, and the ideal candidate should be willing and able to pitch in to help in a small but growing organization. This position provides the opportunity to work closely with F.E.P.'s Executive Director and Founder. We are looking for someone with a passion for F.E.P.'s mission to create a more just and sustainable world by recognizing the power of one's food choices. The position reports to F.E.P.'s Executive Director.'
Responsibilities & Duties
  Administrative Support
Fulfill orders for F.E.P. materials, including printed reports, vegan recipe booklets, and merchandise.
Regularly check the P.O. box and direct miscellaneous correspondence to the relevant staff, as needed.
Coordinate the Founder's speaking engagements with the Communications & Marketing Manager, schedule/confirm these appointments.
In a post-COVID19 world, coordinate travel arrangements and organize tabling materials for out-of-state vegan fests and other events where F.E.P. will be represented.
Review and order office supplies and procure new supplies and equipment, when needed.
Keep track of existing merchandise inventory and re-order, as needed.
Coordinate materials and supplies for program activities such as F.E.P.'s annual School Supply Drive, Fight for the Ocean Day ocean cleanups, etc.
Take, transcribe, and disseminate team meeting notes and clearly highlight follow-up items.
  Donor/Fundraising Support
Prepare gift acknowledgment letters for the Founder's/Executive Director's review prior to mailing.
Learn to merge data from the database into gift acknowledgment letters and check for (and fix) errors.
Keep track of donor information and prepare it for entry into the database.
Note any changes/new data on supporters and ensure the information is recorded for timely correction in our database.
Prepare bank deposits and reconciliation for the Executive Director.
Support the Executive Director with preparing materials for fundraising events and meetings with donors, assist with preparing grant proposals, collate donor updates on programs, etc.
Submit matching gift request forms, if needed.
  Finance Support
Coordinate and prepare annual state charitable solicitation compliance renewals for review by the Executive Director before submission.
Prepare and verify employee reimbursements and expense reports in a timely fashion prior to submitting to the Executive Director for payout.
Maintain records of employee time-off requests (paid vacation and sick time).
Perform other similar duties, as requested.
  Preferred Qualifications/Skills/Experience
1–2 years' experience in office management, preferably at a nonprofit.
Thorough understanding of standard office administrative practices and procedures.
Excellent communication skills (both written and oral). Comfortable answering the phone and establishing a good rapport with supporters/donors.
Able to maintain strict confidentiality and discretion.
Able to work independently, be self-motivated, and dependable with the ability to meet tight deadlines.
Highly organized with excellent time-management skills, strong attention to detail, and follow-up.
Can handle a significant volume of time-sensitive work without sacrificing quality/accuracy.
Able to self-prioritize tasks based on understanding the organization's short-term and long-term needs.
Thrives in a highly collaborative team environment.
Solicits feedback and self-corrects based on feedback received.
Sees the big picture and suggests process efficiencies for the organization.
Excellent knowledge of MS Office (Outlook, Word, and Excel), working knowledge of program/project management software (Basecamp), and Dropbox, Google Drive, or other information management systems. Willingness to learn—and become skilled—with our technology platforms, including Network for Good, Mailchimp, and more.
Understands Food Empowerment Project's mission and philosophy and is able to professionally advocate on behalf of the organization.
Other Details
Job Location: The candidate should already be located within daily commuting distance of San Jose, CA, U.S. Once-monthly trips to Petaluma, CA, will be required in the initial few months. Please, no applications to work remotely. No relocation assistance is available.
Starting annual salary: $45,000–$50,000 USD.
Benefits: Health care reimbursement for medical, dental, and vision premiums; paid vacation time of 3 weeks per year and increasing accrual based on tenure with the organization; and a professional development budget.
Application Deadline: We're accepting applications on a rolling basis until the position is filled. Our goal is to fill the position by the end of 2020.
Application Process: Please send us your resume highlighting relevant experience and skills, and a 1-page statement of interest, including a self-assessment of your strengths and weaknesses as they directly relate to this position. Please email your materials to jobs@foodispower.org with the subject line "Executive & Programs Assistant."
People of color, women and non-binary folks, immigrants, LGBTQ+, and people with disabilities are encouraged to apply!
Interview Process
Initial Interview: We'll contact select candidates to schedule an initial screening.
Second Round: Candidates will be asked to complete a trial project.
Final Round: Candidates will be invited to meet with additional members of the team in a panel interview.
References: For final-round candidates, we will ask that you submit 3 references who can speak to your skills and experience as they pertain to this position.
Final Determination: We will contact you with our decision.