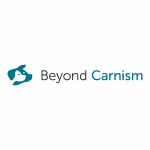 Beyond Carnism 
Beyond Carnism is a US-based, international organization dedicated to exposing and transforming carnism, the invisible belief system that conditions people to eat certain animals. Beyond Carnism is the first and only organization that focuses exclusively on carnism, making it a pioneering and landmark institution and a hub of international carnism-awareness activity.
Inspired by the work of our founding president, Dr. Melanie Joy, we have created innovative programs and campaigns, which have had a significant global impact. We are run by a committed, compassionate, and exceptionally talented team in the US and Europe.
Beyond Carnism is a small, vibrant organization with a startup feel and ambitious goals. Our strategic aims over the next three years include making carnism a mainstream term and significantly increasing the reach of our Center for Effective Vegan Advocacy (CEVA). Through CEVA, we also plan to expand on Diversity, Equity and Inclusion work in order to help build a more inclusive, resilient, and impactful movement. We also aim to build out our newer work on "relational literacy," the understanding of and ability to practice healthy ways of relating. We are seeking a talented, highly organized, dedicated, self-directed individual with a thorough knowledge of the animal advocacy movement and a commitment to strategic thinking, effective altruism, social justice, relational health, and personal integrity to join our team and help take Beyond Carnism to the next level.
Position Overview
The Social Media Manager will help improve and grow Beyond Carnism's social media presence. They will develop and publish social media campaigns and content, assist in developing the social media strategy, and manage our social media pages and profiles to increase engagement. The social media manager will be responsible for the overall implementation of the organization's social media strategy as well as the day-to-day planning, execution and analysis. They will work closely with the Head of Communications and Marketing and have thorough knowledge of carnism and the animal advocacy movement. This is a remote position with a flexible schedule, requiring a self-motivated individual who is able to work well both independently and with a remote team.
Key Responsibilities
Create and post high-impact social media content, including copy, images, videos, animation/gifs and infographics
Work with the Head of Communications and Marketing to develop a social media strategy for Beyond Carnism (@beyondcarnism), the Center for Effective Vegan Advocacy (@ceva.world) and Melanie Joy (@drmelaniejoy)
Manage and grow our online communities, monitoring comments and communication across all social media channels
Help conceptualize and Melanie Joy's work from analog to digital format that will reach new audiences with bite-sized, shareable content
Manage, maintain, and execute the social media content calendar across platforms to grow community engagement, awareness, and adoption
Help oversee, collect, and improve social media metrics and KPIs
Skills and Experience
Minimum of two years of experience as a social media manager or equivalent position
Experience developing and implementing successful social media strategies
Strong graphic design and basic video editing skills
Exceptional English communication skills, both verbal and written, demonstrating consistent high standards of accuracy and clarity in written work
The ability to break down complicated concepts into bite-sized, sticky social media material
Track record of delivering successful social media marketing campaigns
Experience in managing communities and increasing engagement
Familiarity with platforms for scheduling, reporting, publishing, and analyzing social media metrics
Thorough knowledge of carnism and the animal advocacy movement; experience working in an animal advocacy organization a plus
An excellent eye for, and commitment to, detail
Strong commitment to the mission and values of Beyond Carnism, including a commitment to effective altruism, intersectionality, and relational literacy
Excellent organizational and time management skills
Excellent strategic and critical thinking skills
A sense of humor and a positive attitude
Interest in mindfulness a plus
Position Details 
Salary: $40,000 – 45,000
This position reports to the Head of Communications and Marketing and it is a remote position with occasional opportunities to travel to meet with the team.
Ideally this is a full-time position but we can be flexible for the right candidate.
We offer flexible working hours and time off, as well as generous benefits that vary depending on the country of residence.
To apply for this position, please email your CV and a cover letter answering the following questions to jobs@carnism.org with the subject line "Application: Social Media Manager_Your Name."
Why do you want to work with us?
Why do you believe your skills and experience make you a fit for this role?
How familiar are you with carnism?
How familiar are you with the animal advocacy movement?
What is your earliest start date?
What are your salary requirements?
How did you hear about the role?
If possible, please also share a few social media samples and/or any links to social media accounts you manage.
At Beyond Carnism, we are committed to equal opportunities and to creating a diverse and inclusive work culture. The commitment to fostering an environment that welcomes and embraces diversity is one of our core values and is reflected in our internal and external communications. At Beyond Carnism, all people—regardless of race, religion, gender identity or expression, sexual orientation, national origin, ability, or age—are encouraged to apply for employment opportunities. Furthermore, all employees are required to become literate around privilege and systems of oppression and we will provide the information necessary to help staff develop such awareness.