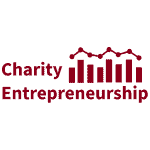 ABOUT CHARITY ENTREPRENEURSHIP
Charity Entrepreneurship (CE) is a research and training program that launches multiple high-impact charities annually in a number of rotating cause areas including animal advocacy, mental health, global health and development, and policy. ​
HOW YOU WILL MAKE A DIFFERENCE
Your research will guide CE's recommendations about what charities should be started. Previous CE research has led to the founding of seven poverty/health charities, three animal advocacy charities, and two mental health charities. Charities we've helped launch include Fortify Health, Charity Science Health (both awarded GiveWell Incubation Grants), and Animal Advocacy Careers (supported by Open Philanthropy, EA Animal Welfare Fund, and ACE). We aim for the charities to be among the most effective in the world. For example, GiveWell claimed that "Our cost-effectiveness model currently assigns an overall likelihood of 25% to Fortify Health becoming a top charity."
Last year we received ~3,000 applications to our Incubation Program, and we expect this pool to grow. We are expanding our research team to recommend more charity ideas and thus start a greater number of effective organizations.
OUR CULTURE
CE has a start-up culture of creativity, casual attire, friendliness and kindness, hard work, flexibility, and task diversity. You will be expected to have a strong work ethic, but our organization is consequentialist when it comes to taking days off. We offer a lot of team socials and community benefits, as well as a flexible working schedule; a caring, friendly team; and snacks (when we return to the office after the Covid pandemic). 10% of your time can be devoted to personal development and learning of your choice, including fairly extensive internal and external training
ABOUT THE ROLE
By joining Charity Entrepreneurship as a Research Analyst (RA) you will contribute to the number and type of charities we recommend and launch through identifying, analyzing, and comparing charity opportunities. The distance between research and application is often a substantial barrier to impact. Our system is designed to counteract this, as all research we conduct is rapidly implemented through our annual incubation program. This means your research will have a clear and lasting impact. It has been estimated that each new effective charity is worth $200,000-$400,000 in expectation per year. See previous writing on the value of CE and the expected value of a top charity for a more detailed rationale.
The RA will research a variety of potential interventions in multiple cause areas, compare them, and help to inform our decision about charity recommendations. The RA will have various cross-cutting responsibilities and will be expected to gain many new skills on the job. If you are interested in the position but do not have skills in some of the listed areas, please apply nonetheless: we will cater the training to your individual needs and are happy to train up a researcher who has strong potential.
​
Responsibilities include:
Generating charity ideas
Analysing charity ideas
Building cost-effectiveness models
Assessing strength of evidence for a given charity idea
Conducting interviews with experts
Managing a team of research interns
Publishing reports on our website and EA Forum
Contributing to the decision about which charities to launch through CE's annual incubation program.
Example reports from last year's research include guided self-help, shrimp welfare, and alcohol regulation.
This job will involve rapid learning and application of knowledge, both directly technical skills (e.g. conducting literature reviews and meta-analysis) and creatively applying empirical data (e.g. using historical surveys to derive expected value). It will also involve delving deeply into philosophical topics such as issues of sentience and moral weights, or how to deal with flow-through effects. Day-to-day conversations will include talking about crucial considerations, application of self-improvement techniques, and how to deal with epistemic uncertainty. This job will provide strong learning value for people looking to enter a long-term career in the EA movement, research, or charity entrepreneurship. ​
WHAT WE OFFER
A job that has a huge impact on the world
The chance to shape the direction, goals, and achievement of the organization
Flexible working schedule and days off
Experience working at an early-stage nonprofit start-up
Community of talented, dedicated, and like-minded EAs
A heavy focus on training in important skills
High levels of intellectual challenges
For the right employee, more perks and benefits could be included
Salary and moving costs are flexible depending on employee needs
ABOUT YOU
Many excellent candidates will meet many (but not all) of the criteria below. We encourage you to apply even if you do not meet all of the listed characteristics. In the past, we have offered a position to applicants that did not meet all the criteria and trained them up in the needed skills. ​
WHAT WE NEED
We're looking for someone:
Able to work both autonomously and in a small team
Who has experience with both empirical and a priori research
Passionate about quickly learning new skills
With strong written communication skills and a high degree of reasoning transparency
Highly impact-driven and knowledgeable about effective altruism
Highly intelligent and conscientious
Able to and interested in working across a wide range of cause areas
Able to move to and work in London after CE reopens its office after the pandemic. (Exceptions may be made for excellent applicants who do not meet this criterion.)
Kind and excited about the job
BONUS POINTS FOR
Very strong work ethic
Experience working in effective altruism (volunteering, independent projects, internships, or jobs all count)
Research experience and ability to interpret and critically evaluate studies and statistical analysis
Familiarity with Bayesian reasoning
Experience creating and evaluating cost-effectiveness analyses (CEAs)
Experience in researching policy ​
APPLY NOW
The application deadline is November 20th, 2020.
Fill out this form to apply.
The top candidates will be contacted for the first stage interview.
Commitment to diversity and equal employment opportunities
​We are committed to fostering a culture of inclusion and encourage individuals with diverse backgrounds and experiences to apply. We especially encourage applications from self-identified women and people of color who are excited about contributing to our mission. Charity Entrepreneurship is an equal opportunity employer. If you need assistance or an accommodation due to a disability, or have any other related questions about applying, please contact ula@charityscience.com