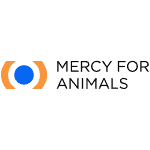 As a Mercy For Animals legal intern, you can help shape the future of animal law. Legal interns gain invaluable experience while assisting our campaigns and high-impact work advocating for animals in courts, state houses, and administrative agencies. A vital part of our team, our interns are closely involved with important projects.
You'll work directly with our international team of attorneys to research and analyze federal, state, and local laws; draft memoranda; review undercover footage; execute campaigns; and assist with administrative and corporate governance tasks pertaining to general non-profit administration and legal compliance. You'll leave with hands-on experience in a wide variety of legal disciplines and insight into the field of animal protection.
Mercy For Animals offers full-time internships during the summer, fall, and spring, which can be completed remotely. Internships are unpaid, but academic credit may be available. We are looking for a minimum time commitment of six weeks.
Application deadlines for legal department internships are July 1 for fall, November 1 for spring, and December 31 for summer.