Graphics Design and Digital Communication Volunteer Internship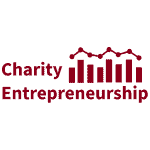 Overview
To apply: Fill out this application form.
Application deadline: October 31,  2020
MAKE A CHANGE BY APPLYING YOUR DESIGN SKILLS! ​
Charity Entrepreneurship (CE), a London-based incubator for high-impact charity start-ups, is seeking an intern to assist with a variety of graphics and communication tasks to support our research and communications team.
ABOUT CHARITY ENTREPRENEURSHIP
Charity Entrepreneurship conducts research to identify the most promising potential charitable interventions, then runs a training program that incubates 5+ evidence-based charities per year. Focus areas have included animal advocacy, health and development policy, mental health, and family planning. See an update about our 2020 charity ideas here.
HOW YOU WILL MAKE A DIFFERENCE
Strong communications are the core of Charity Entrepreneurship's work. Thanks to your data visualization and design skills, research reports will reach a broader audience, the incubation program will secure additional strategic partnerships, and ultimately, more high-quality entrepreneurs will found charities. As CE still has a lot of potential in terms of corporate design, you will get the opportunity to influence the future visual identity of the organization.
ABOUT THE ROLE
Charity Entrepreneurship produces a lot of written content – both direct research and meta EA posts, as well as smaller writing pieces. Strong data visualization and social media banners are key to reach our target audience and get the message across.
​
We are looking for candidates who can support us in at least one (preferably all) of the following areas:
​Web graphics skills
Layout skills
Video editing
Data visualization skills​
WHAT WILL YOU WORK ON
During the 3-month volunteer internship, you will work on (depending on your talents):
creating static and dynamic social media graphics
creating data visualization for reports in Tableau
basic video editing
creating basic animations for videos
creating copy for social media and website
managing small projects
creating layouts: for reports, website pages
learning basics of effective altruism and charity entrepreneurship as a career path
​WHAT YOU CAN EXPECT
During the 3-month volunteer internship, you can expect:
0.5-1 hour weekly check up (a conversation with your direct manager about your progress, planning tasks together)
written feedback on every task
using Asana for task management, Slack for internal communication, Zoom for the weekly calls, Canva for most of the graphic tasks
a social call with other interns and staff members (at least once a month)
being part of the CE team – communicating with staff members, supporting their work, exchanging knowledge/tips on Slack channel
joining the CE network – plenty of information about EA, job opportunities, Incubation Program
preparation for applying to the Incubation Program
BENEFITS
Help attract more charity entrepreneurs with your visual wizardry.
Gain experience with an effective altruism nonprofit.
Work with like-minded, dedicated, and compassionate teammates.
Get a strong reference (we provide a certificate signed by the board of directors, a LinkedIn recommendation from your direct supervisor, and you can use us as a reference).
Enjoy flexible work hours and location (if pandemic allows and we have free desks available, you can work with us in the London office).
WHAT WE NEED
Exceptional graphic skills in one or more of the areas outlined above
At least basic understanding of effective altruism
Able to put in a minimum of 5 hours a week
Able to commit to at least three months of internship (less if full-time)
BONUSES
Familiarity with the written output of Charity Entrepreneurship
Able to put in 10+ hours a week
Able to work on short turnaround times
Available during the GMT time zone workday
FINE PRINT
Expected hours: minimum of 5 hours a week, ideally 10+ hours up to full time
Location: remote or London-based
Payment: Volunteer basis (unpaid)
Application deadline: October 31, 2020