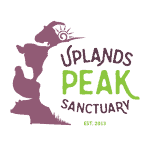 Website Uplands Peak Sanctuary, Inc.
40 hours per week
Hourly pay is based on previous farmed animal care in a sanctuary setting. Free onsite housing is included.
Uplands PEAK is rapidly growing Sanctuary amidst a huge animal agriculture state. The Animal Caregiver position is a wonderful opportunity to join our grassroots movement and be a part of building an amazing sanctuary and making a difference for the most abused animals on the planet. We are seeking a true team member to help our organization launch into the future. The right person could potentially have many options within the organization as PEAK is growing and just moved to a 105-acre property. This is a dirty and challenging job involving heavy physical labor in all weather conditions. Additionally, it is emotionally challenging work. The Animal Caregiver position will work weekends, evenings, and holidays. Reliable transportation required. You will enjoy this job if you are a very hard worker, flexible, truly love all animals, and are committed to the liberation of farmed animals. Additionally, if you live on-site, enjoying the solitude, peace, and quiet is a MUST.
The Animal CareGiver will be responsible for all aspects of daily animal care including the following:
Providing food and water for animals.
Meticulously cleaning barn, stalls, and coops.
Following veterinary care treatment plans in accordance with directions.
Participating in hoof trimming, ear cleaning, grooming, and similar care.
Helping to maintain grounds and pastures – mowing, weeding as necessary.
Working with volunteers.
Working with interns.
Maintaining records for each individual animal.
Other tasks as time permits and as needed.
The Ideal Team Member is: Committed to and persistent in carrying out PEAK's mission, vision, and values. Experienced in caring for rescued farmed animals like cows, pigs, chickens, turkeys, and goats. Content working in solitude and possibly living in solitude, but also comfortable working with others.
Able to understand and precisely follow oral and written directions. Extremely observant; able to notice and communicate subtle changes in animals' appearance and behavior.
Able to work in a busy and ever-changing environment.
Calm under pressure.
Advocate for veganism and animal liberation.
A Self-starter.
Ability to work outdoors in extreme weather conditions.
Able to lift 50lbs consistently.
Additionally, the candidate must have a valid driver's license, pass a criminal background check, and be willing to work long hours including weekends, some holidays, and possible overnights. Hourly pay is based on experience caring and treating rescued farmed animals. The position will be eligible for a week's paid vacation after 6 months of employment. This position is eligible for on-site housing.
Job Type: Full-time
Salary: $10.00 to $15.00 /hour, one week PTO