Delve into the exotic world of Southern Indian cuisine as we dish up an array of delicious Vegan and Gluten Free Indian Street Food!
Put down the takeaway menu and escape to the bustling streets of Southern India as MasterChef Contestant Dhayanie (Dee) Williams teaches us how to make some popular Street Food dishes! In this culturally enlightening and interactive class, you will have the unique opportunity to roll up your sleeves and learn about Southern Indian culture and cuisine from an expert, appreciating the joy of Indian cooking and the ease of making it in your own home! All dishes are both vegan and gluten free friendly, showcasing how versatile Indian cuisine is for every body!
Snacks and Street Foods are common in India, reflecting the culture and lifestyle of the people and their nation. In this class, your will be making two popular street food snack, Aloo Bonda and Onion Bhaji; and accompany these with a fresh Coriander and Mint Chutney.
Bonda is a typical South Indian snack that has various sweet and spicy versions in different regions. The most common bonda is the 'Aloo Bonda' made from potato and deep fried.
Onion Bhaji is an immensely popular snack to make during family gatherings and can be made very quickly. This Southern Indian Onion recipe is also known as Onion Pakoda, and one of the easiest snacks you make in your kitchen to recreate authentic Indian Street Food!
Indian chutneys are the flavour saver of Indian cuisine – they can be sweet or spicy, chunky or smooth, and typically incorporate some combination of fruits, herbs, and vegetables. The coriander and mint chutney makes for a cooling, fresh accompaniment, while the date and tamarind chutney makes for a delightful sweet and spicy pairing!
Once you have created your delicious masterpieces, you will then plate and devour your creations with your new found foodie friends! With these recipes in your repertoire, you can say goodbye to the packet sauces and takeaway boxes and have the confidence to dish up these Southern Indian favourites at home!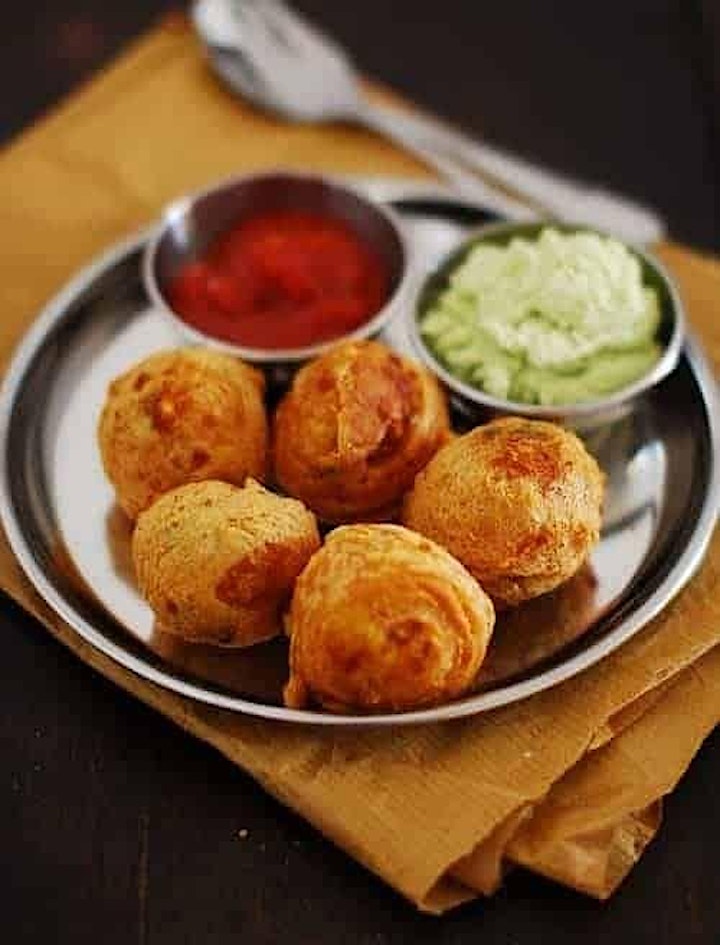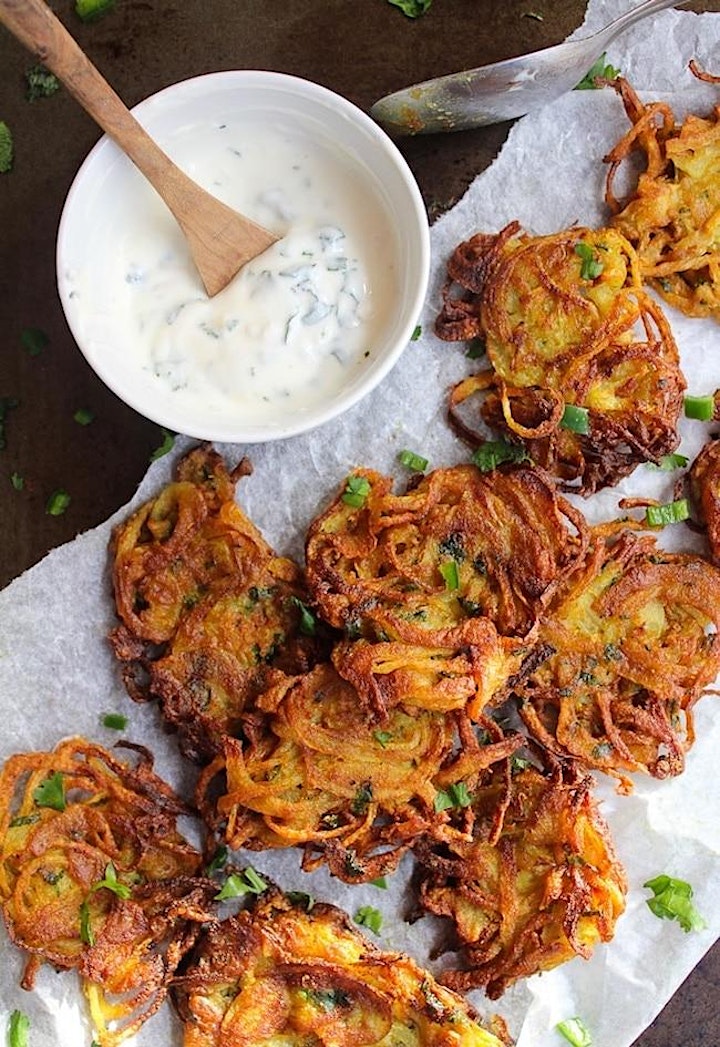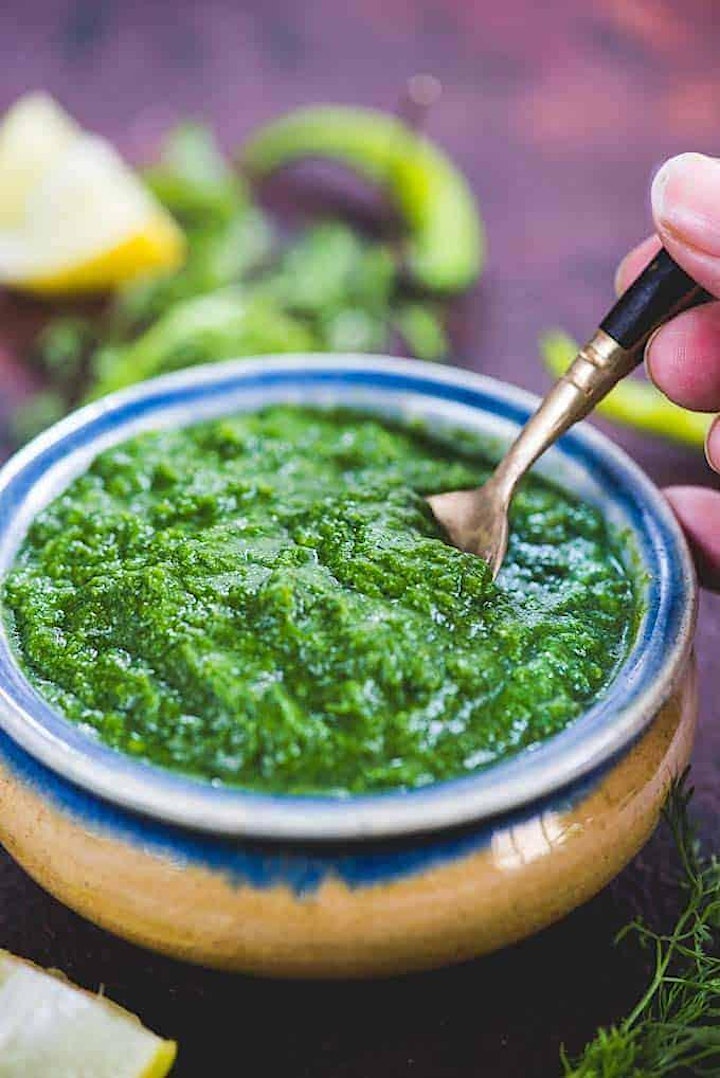 Why spend your evenings alone binging on yet another Netflix series, when you can roll up your sleeves, get into the kitchen and cook up a storm with some fun new foodie friends!
With the world divided in isolation, our mission is to work around the social distancing barrier and bring people together virtually in the comfort of your own home!
WHO: Just your fabulous self! Get ready to meet other like-minded people with a passion for food for a delicious evening in!
WHAT: Our interactive and friendly Zoom cooking classes are a great way to socialise, have a laugh and chat with some new people, whilst also refining your cooking skills and learning how to dish up a delicious meal by our expert culinary Instructors!
WHERE: From the comfort of your own home! All you need is access to Zoom on your device of choice and we will take care of the rest!
HOW: Once we have confirmation of your ticket purchase, we will send you all the necessary instructions including your Zoom meeting ID and password, a list of the ingredients you will need and the recipe for the evening!
Upon arriving to your cooking class, we will welcome you and your fellow foodies with an introduction and quick demonstration from our expert culinary instructor. You will then embark on your culinary adventure with the group whilst also having the opportunity to interact with our Chef Instructor throughout the evening and ask questions as you wish.
At the end of our evening, we will come together and debrief about how we all went, whilst feasting on the fruits of our labour family style!
DRESS: We would love to make this experience as authentic as possible so feel free to impress with your home-styled hairdo and smart-casual, fun and fabulous attire!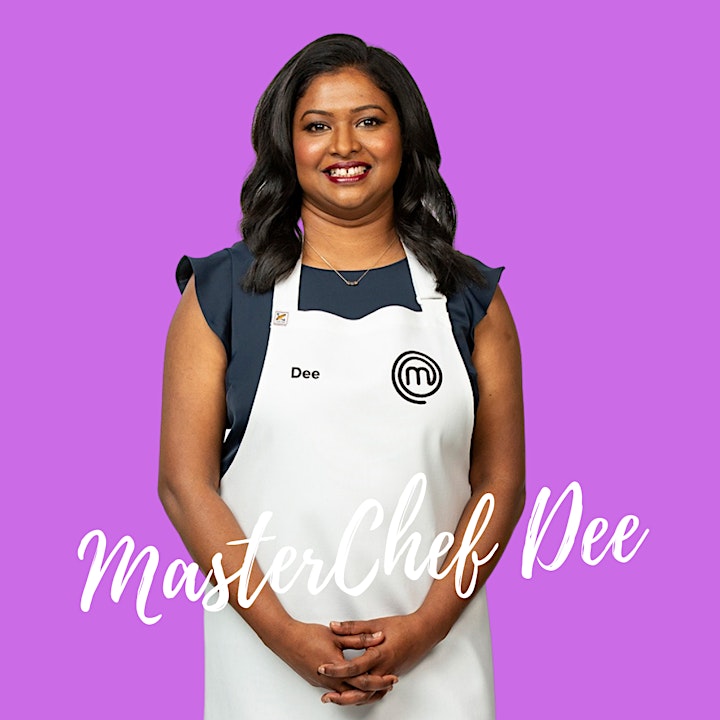 Your host this evening will be Food Ambassador, Media Personality and Season 11 MasterChef Australia Contestant Dhayanie (Dee) Williams. Born in Sri Lanka, Dee decided to move to Australia in 2007 to complete her Bachelor's Degree in Hotel Management, graduating in 2011.
When Dee moved to Melbourne, Australia in 2007, it opened a whole new world of cuisines that she previously did not know about. Whilst living in Australia she was inspired by the variety of cuisines and cooking cultures on offer and found her strength in the kitchen cooking Asian and Sri Lankan cuisine.
Whilst watching MasterChef Australia over the years she had a desire to experience what all the contestants were experiencing in the competition. Despite several unsuccessful attempts, Dee did not let this dissuade her, and so she persisted on until she was selected to be part of MasterChef Australia Season 11, 2019 as a top 24 contestant. Dee was the first Sri Lankan female to be selected for MasterChef Australia.
Dee aims to showcase the authentic flavours of Sri Lankan cuisine by showing viewers on various social media platforms how to create dishes and explaining the different and complex flavours. Dee recently featured as a judge and mentor for Sri Lankan cooking show Supreme Chef. Along with continuing to be a Food Ambassador, Dee is also planning on releasing a signature range of spice mixes in future.