Give us 1 hour, & we'll inspire you w/a unique wine & dessert tasting experience led by an awesome St. Chris alumna—all to help our youth!
DID YOU KNOW YOU CAN HELP CHANGE THE TRAJECTORY OF A YOUNG PERSON'S LIFE… IN JUST ONE HOUR?
FIND OUT HOW BY JOINING ST. CHRISTOPHER'S FOR WHAT MAY BE THE MOST INSPIRING AND FLAVORFUL 60 MINUTES YOU SPEND THIS HOLIDAY SEASON!
ENJOY DELICIOUS WINES & DESSERTS, SEE OUR IMPACT, & HELP US HELP OUR YOUTH CREATE FUTURES OF HOPE & POSSIBILITY… ALL IN ONE HOUR…AND ALL FROM THE COMFORT OF YOUR HOME!
The St. Christopher's Team is thrilled to invite our Circle of Friends, Donors & Sponsors—& EVERYONE!—to our first-ever, virtual fundraiser on Friday, December 4, from 6:30 p.m. to 7:30 p.m. This unique, holiday kick-off will feature an expertly-guided wine tasting by noted vegan wine expert, FRANCES GONZALEZ.
Frances, the Founder & President of Vegan Wines and Despacito Distributors, is a successful entrepreneur and remarkable human being whose life story inspires us—all the more so because part of her journey took place right here at St. Christopher's. For four years, Frances was a resident of our Dobbs Ferry Campus, which she considers "one of the best things that ever happened to me."
During this fast-paced, fun-filled hour, you will experience two wines especially chosen by Frances for this tasting—a red and a white as part of your ticket purchase or sponsorship—in addition to a pairing of two vegan desserts prepared in our St. Christopher's Kitchens. Wonderful, holiday entertainment, moving profiles of residents, and the first-ever presentations of THE ETTA AWARD—named for our founder and pioneering child advocate, Etta Angell Wheeler—will round out the hour. PLUS you'll have the chance to bid on select auction items, including the symbolic adoption of the first, two members of our goat family—Jenny and Clark—and bid on a golf foursome at Sleepy Hollow Country Club, one of the top-rated golf courses and country clubs in the nation, through the generosity of Board Member, Tom Leihbacher.
THIS IS OUR ONE FUNDRAISING EVENT OF 2020, SO PLEASE BUY YOUR TICKETS TODAY! EACH TICKET INCLUDES…
…one bottle of delicious vegan red wine and one bottle of delicious vegan white wine, plus two scrumptious, vegan desserts prepared in St. Christopher's Kitchens, and paired respectively to these wines—delivered in advance to your home—plus a link to the virtual broadcast for each ticketholder for whom an email address is provided. Please note all participants must be at least 21 years of age.
YOUR SPONSORSHIPS NEEDED, NOW MORE THAN EVER…
…to help St. Christopher's continue its work with youth with special needs, in addition to covering the costs of this virtual event.
PLEASE CLICK THE TICKET TAB NOW TO EXPLORE OUR TICKET & SPONSORSHIP OPTIONS…AND THANK YOU FOR YOUR SUPPORT!
QUESTIONS? PLEASE CONTACT DENNIS DA COSTA AT DDACOSTA@ SC1881.ORG, 914-357-6182, OR 914-495-3108.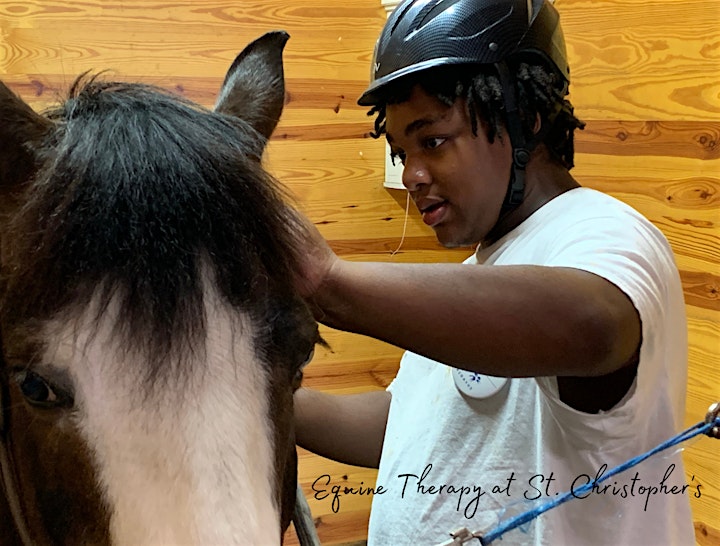 ST. CHRISTOPHER'S EMPOWERS YOUTH TO BE THEIR BEST SELVES
St. Christopher's is a safe and nurturing, residential treatment center for youth with special needs. We use evidence-based, therapeutic approaches to help our youth: pursue their studies, interests and passions; move beyond past traumas; and move forward with their lives as happy, healthy and connected members of their communities. We empower youth with the same social-emotional coping skills and strengths we would want our own children to have to become their best selves. Our highly experienced and caring clinical and residential teams do all this and more at three, unique campuses in North Castle, New Windsor and Dobbs Ferry, New York, where we harness the power of and foster the human-animal bond, young women's leadership, and the healing and performing arts, respectively, to help our youth thrive.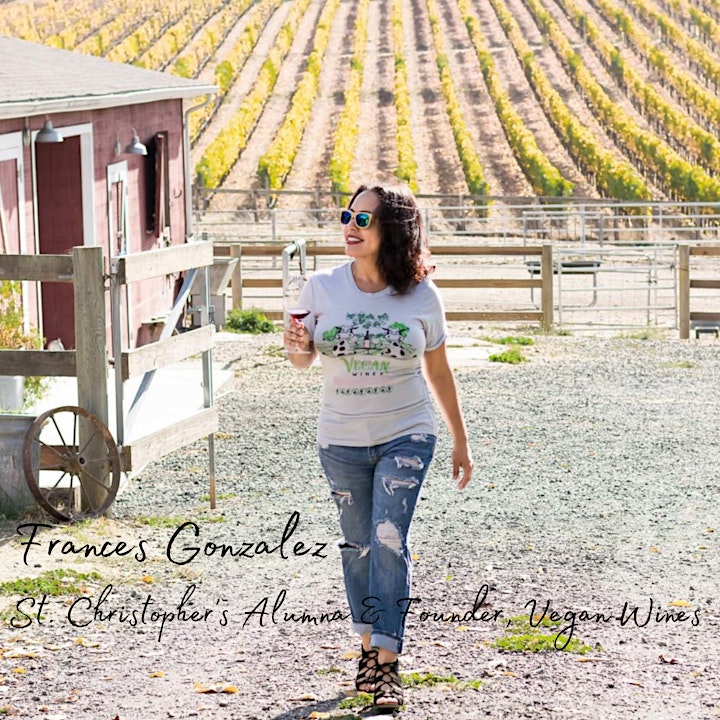 THROUGH ADVERSITY COMES OPPORTUNITY
The generosity of kind, caring and compassionate donors like you—individuals, companies and foundations—provides the vital financial support we need to carry out our mission to help transform the lives of youth. But the COVID-19 pandemic forced St. Christopher's—and nonprofits nationwide—to cancel in-person, fundraising events—in our case, two (our gala and golf classic). But in June, a very special person stepped forward—an alumna named FRANCES GONZALEZ. Frances is a respected vegan wine expert, restaurant wine consultant, and Founder and President of Vegan Wines, a completely vegan-friendly wine club, and Despacito Distributors, a plant-based wine distribution company.
In a recent blog post, Frances captured her feelings about the time she spent as a teenager at St. Chris: "My belief is that I am here today because of my parents' love and St. Christopher's dedication to helping adolescents with emotionally challenging behaviors. My four years at St. Chris are one of the best things that ever happened to me." On October 2, she returned to the campus she'd left more than three decades earlier. She and we loved having her with us!
SO ISN'T ALL WINE VEGAN? IT'S JUST GRAPES, RIGHT?
NO & NO! Although made from grapes, a wine may also have been made using animal-derived products. During the winemaking process, the liquid (wine) is filtered through substances called fining agents to remove protein, yeast, cloudiness, "off" flavors and colorings, and other organic particles. Popular animal-derived, fining agents used in the production of wine include blood and bone marrow, casein (milk protein), chitin (fiber from crustacean shells), egg albumen (derived from egg whites), fish oil, gelatin (protein from boiling animal parts), and isinglass (gelatin from fish bladder membranes). Enough said…
True vegan wines are 100% free of animal products.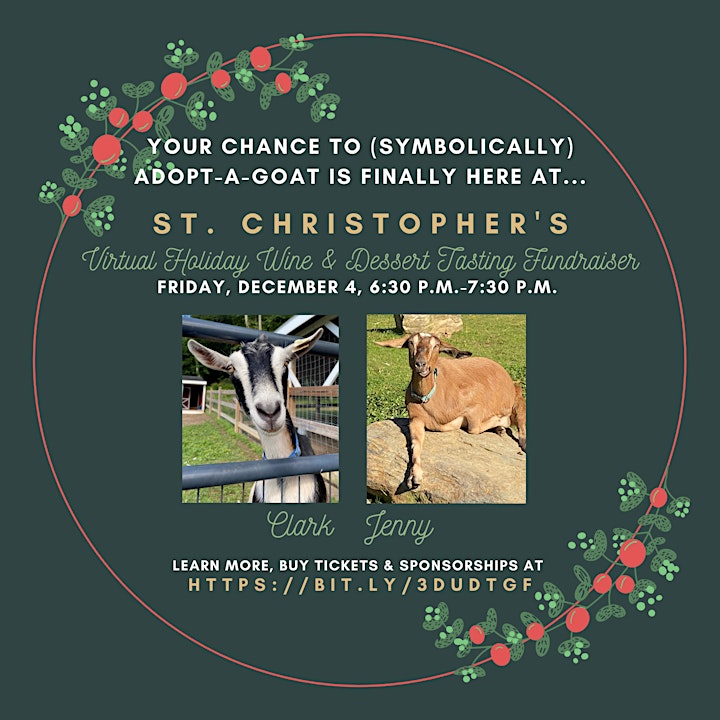 IF YOU NEED MORE INFO, OR CAN DONATE AN AWESOME AUCTION ITEM…
…please contact Dennis da Costa at ddacosta@sc1881.org, 914-357-6182 or 914-495-3108.
ALL OF US AT ST. CHRIS LOOK FOWARD TO SEEING YOU, VIRTUALLY, ON DECEMBER 4 AT 7:00 PM!
THANK YOU FOR YOUR SUPPORT…AND PLEASE STAY HEALTHY & SAFE.